Formed in London, Ontario and relentlessly touring ever since. "After The Lounge" is inspired by frontman and songwriter, G. S. (Scotty) Bollert.
Their shows have been described as "A definite must-see…"
The Band
Check out our latest video, SUNSHINE!
Upcoming Shows:
Saturday, November 14/2020 – BUCKCHERRY at London Music Hall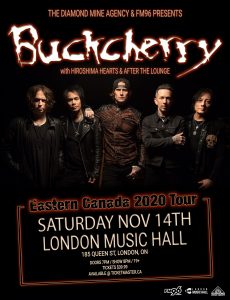 After The Lounge is a hard rock band based out of Ontario, Canada and known well for their song Lights Go Out released in 2010. With this song they created a radio scene at home along with parts of Europe, Asia, Mexico and largely in Brazil. This excitement played well with their next single releases over the years like, Back To The Start, Can't Stop, Let's Groove and Never Again.
Although the band stuck strictly to shows in Canada, because of the internet they have continuous attention worldwide. The four piece group has shared bills and support with Blue Oyster Cult, 3 Doors Down, Bad Company, April Wine and Trooper among many more.
The release of the bands new 5 song EP is planned for early 2019 and will contain their current work with Producers Garth Richardson (Rage, Red Hot Chili Pepper's) and Darius Szczepaniak (Big Sugar, Sum 41) Easy Love, Bang! Bang!, Show Us The Horns, Those Were The Days and Sunshine.